Venue
Conference venue
The workshop will take place at the Inamori Auditorium of Kagoshima University (Kagoshima, Japan). The Inamori Auditorium is in the west of the Korimoto campus (No. 22 building in the campus map).
Banquet place
A banquet will be held in the evening on the 5th December at the Kagoshima Tokyu REI Hotel, which is close to the Kogashima chuo station. It takes 5 minutes on foot from JR Kagoshima-chuo Station. For detail information please refer to the website below.
Directions to the conference venue
We recommend use the shuttle bus from the Kagoshima Airport to the JR Kagoshima Chuo Station. From the JR Kagoshima Chuo Station, you can get to the conference place (the Inamori Auditorium in the Korimoto campus of Kagoshima University) using the tram or taxis. The nearest tram stop to the Inamori Auditorium is "Kogakubu-mae".
Transportation Information
Shuttle bus from the airport


"#2 stop" in the airport is the bus stop for Kagoshima City (Kagoshima chuo station).
The buses leave every 10-15 minutes.
The bus fare is 1,250 yen from the airport to Kagoshima City. Buy a ticket by the vending machine in advance.
You can get off at "Chu-o Eki = Central station", or "Tenmon-kan".

Webpage in the Kagoshima Airport (select "Kagoshima City" as a direction")
Webpage in the Nangoku-kotsu (a bus company)

Tram in Kagoshima City


The name of the bus station in JR Kagoshima Chuo Station is "Kagoshima Chuo Station Mae".
The trams leave evey 5-10 minutes.
Pay 170 yen when you get off the tram at the front door.
You can get coins by the exchange machine near the driver.
"Kogakubu-mae" station is the nearest tram stop to the Inamori Auditorium.
You can also find the directions from Kagoshima Airport to Kagoshima Univesity in the link below.
Access info. in the Kagoshima Univ. webpage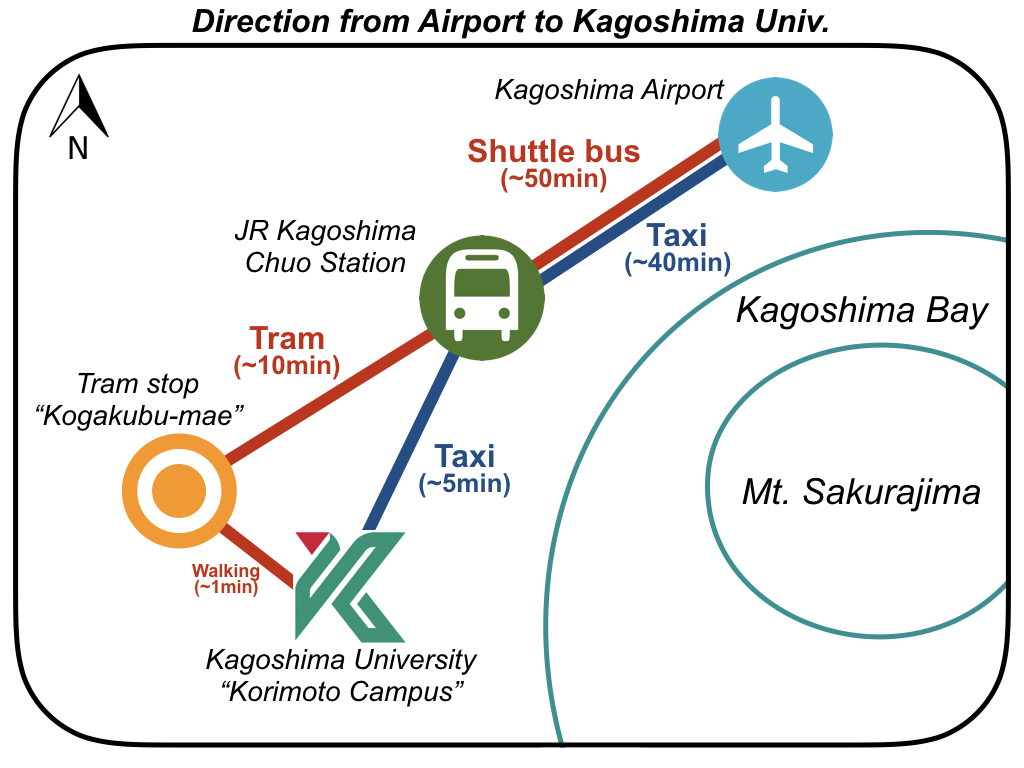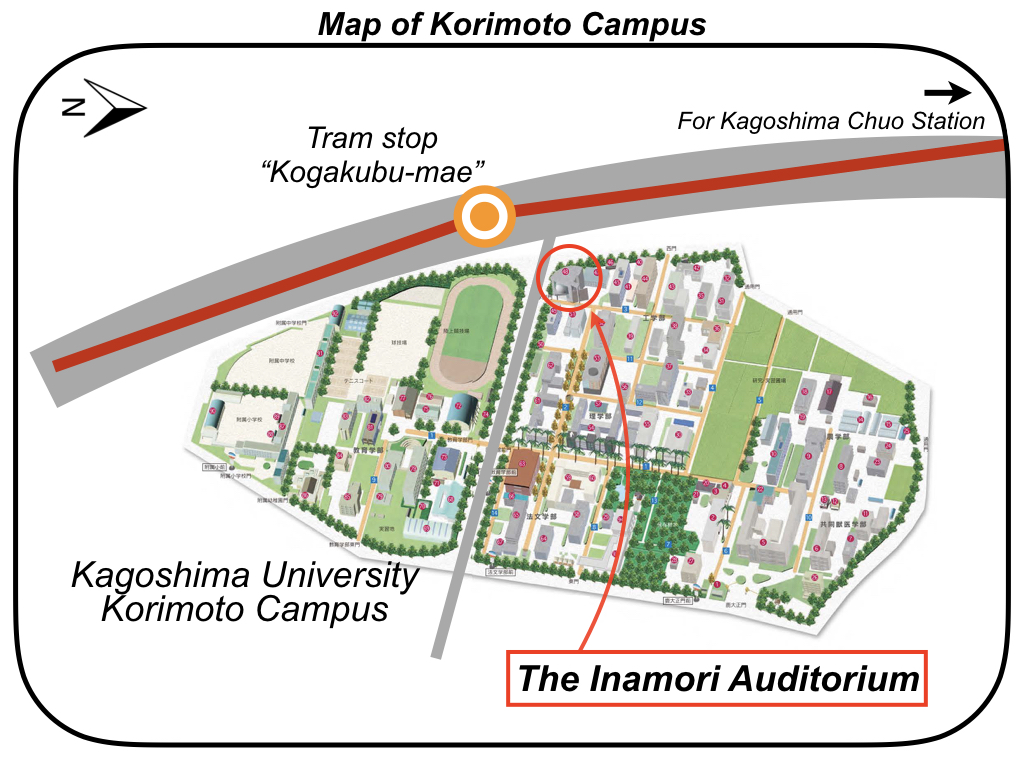 Map